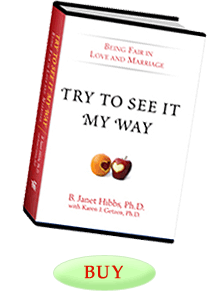 "It's not often that a truly original book on improving marriage comes along. This is one. Reading this book will help you see your relationship in a deeper, more balanced way, and show you practical new ways to make it fairer and more satisfying to both of you."

William J. Doherty, Ph.D, Professor of Family Social Science at the University of Minnesota and author of Take Back Your Marriage
"As I read this superb book about relationship, empathy and justice, I found myself thinking about many couples I have treated over the years. Each chapter contains compelling case histories, exercises, and very clearly and thoughtfully defined ideas that are powerful and achievable. This is a book that I will recommend to many patients."

Don-David Lusterman, Ph.D., ABPP, 2008 Recipient of the American Family Therapy Academy Lifetime Achievement Award
"For couples who love one another but keep hitting the wall of conflict and misunderstanding, Try to See it My Way is an invaluable resource to teach them the language of fairness and trustworthy behavior in order to get on the right relational track."

Terry Hargrave, Ph.D., Professor of Marriage and Family Therapy at Fuller Theological Seminary and author of Families and Forgiveness
"If you've ever felt unfairly treated by your partner, this book is a must read... Full of compelling ideas, clinically informed practical advice, and deep insight into how we understand and solve the ancient relationship problem of "what's fair?"

Janis Abrahms Spring, Ph.D. author of After the Affair and How Can I Forgive You?

B. Hibbs, All Rights Reserved
Design by YIKES!